The only way is Dovercourt, Essex
28/03/2014
A trip into deepest Essex and the home of Maplins :)
Dovercourt, Essex
Dovercourt is a seaside town in Essex. It's older than its better-known neighbour, Harwich, and appears in the Domesday Book of 1086. By 1086 the estate was in possession of Aubrey de Vere I and remained part of the barony of his descendants the Earls of Oxford until the 16th century.
The 1980s BBC hit sitcom Hi-de-Hi! was filmed in Dovercourt, at Warner's Holiday Camp, which transformed into Maplin's. The camp had been used in 1939 for refugee children arriving to be placed in foster homes in the Kindertransport mission and was later re-developed as a housing estate, which is known as Hightrees.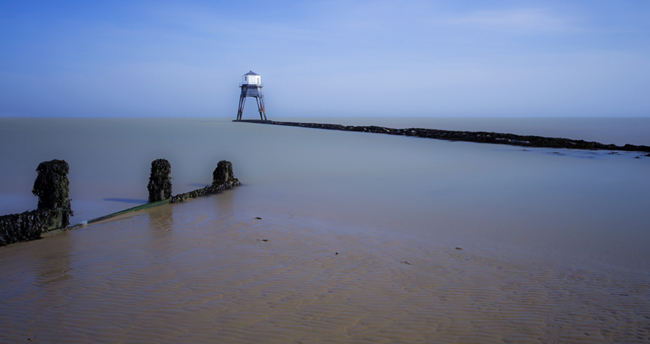 Dovercourt Lighthouses
There have been three pairs of lighthouses through the ages, from the original wooden pair, which no longer exist, then the brick built ones that still stand in Harwich, to the cast iron ones that still stand on Dovercourt Seafront. No of these existing lighthouses are used for navigation purposes today.
The original brick lighthouses in Harwich were built in 1818 to replace earlier wooden ones. In 1836 Trinity House (TH) acquired the Harwich Lights from General Rebow. It is suspected that Rebow had become aware of the changing course of the channel. The lighthouses became redundant in 1863 for just this reason.
In 1863, Trinity House erected two cast iron lighthouses on the beach. In 1909, the High and Low Lighthouses were sold to the Borough Council. The Low Lighthouse was vested in the Harwich Corporation for 10/- (50p), with the condition that it should be returned to Trinity House if needed for navigational purposes. They were used until 1917 to guide ships around Landguard Point; the two lights aligned indicated the right course. The deep-water channel is now marked by buoys. The lighthouses were restored in the 1980s. The lighthouses are sometimes known as Dovercourt Range Lights.
Trinity House took it over again in 1970 and converted it into a pilot signal station. It became the Maritime Museum of the Harwich Society in 1980 and is open to the public at certain times of the year.
10 Stops to Dovercourt
Dovercourt is one of those towns that package holidays left behind. I didn't know until I wrote this that Hi-de-Hi! was filmed there, but now I do, it doesn't surprise me. Once thriving, now a bit tired and lost.
For all that, I love these towns. Like Burnham-on-Sea in Somerset they are a flash back to how things used to be, and whilst in need of lots of TLC, I love their snapshot into an era that we have forgotten for the beaches of Alicante or the Costa Brava – give me Dovercourt any day.
Go visit the town. Spend some money there and remember the importance of these towns to our heritage, past present and future.